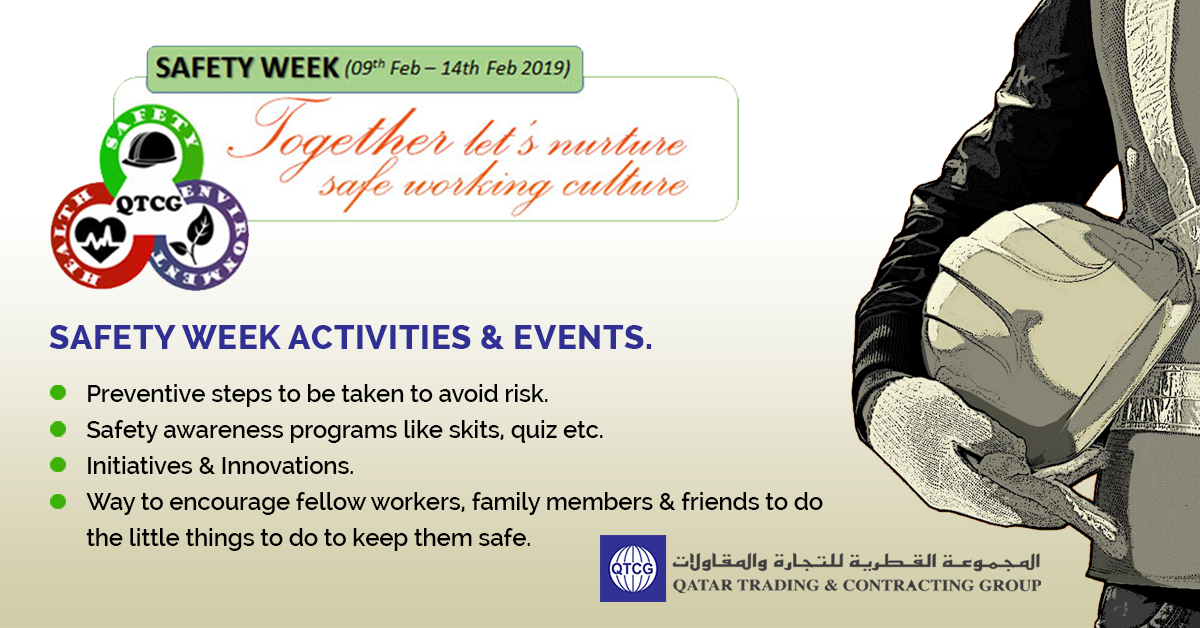 QTCG is committed to achieve highest stands on Health Safety and Environmental, in all our projects. To promote these values, as part of QTCG's culture, we welcome everyone to participate in our SAFETY WEEK program. We believe this will be a good chance to highlight the importance of safety for everyone.
During this week we will promote our commitment with this aim, to assure why safety is an integral part of QTCG's work culture.
Since a safe work place is what makes a sound business, we will lead and encourage all to participate in the safety week programs. In our SAFTY WEEK main focus will be on below activities & events.
Preventive steps to be taken to avoid risk.
Safety awareness programs like skits, quiz etc.
Initiatives & Innovations.
Way to encourage fellow workers, family members & friends to do the little things to do to keep them safe.
During this week we will be organizing various safety training, awareness sessions, initiatives, competitions and interactive sections with respect to safety health & environment across all sites. Looking forward for your participantion, involvement & guidance throughout the week for the success of the program.
MAIN ACTIVITIES & EVENTS
Health initiatives
PPE exhibitions
Different safety trainings & awareness sessions
Civil & Micro tunneling workshop sessions
Best environmental initiatives
Safety quiz competitions
Poster competitions
Sports day celebrations
Cleanest room selection
Toolbox talks by management
Plant & Equipment technical sessions
Stress management sessions
Worker recognition
Personal hygiene
Traffic awareness sessions